Do you want to be part of something awesome in YOUR community? We are looking for volunteers to help in many areas. Look over the list below, and then fill out the contact information below to let us know what you may be interested in helping with. When we get closer to the next event, we will be contacting you!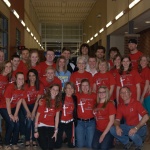 Volunteer opportunities – CureUs:
• Bringing and preparing food/snacks for traveling artists~the day of the event
• Marketing with outside sources, i.e.. radio, etc.
• sponsorships – Business, churches, etc.
• Advertising – getting the word out, delivering posters, flyers, etc.
• Selling tickets-the day of the event
• Selling tickets-prior to the event
• Security
• Ushering
• Public Relations – Meet and Greet event, etc.
• Social Media advertising
• Load in/Load out crew-the day of the event
• Spotlighting – the day of the event
• Runners – getting artists to their designation when they arrive
• Backstage security
• Prepare Dressing rooms /Hospitality- the day of the event
• Concessions
• Clean up Crew
• Selling Merchandise
---
If you would like to volunteer at one or more of our future events, please send us your contact information below and include what areas you are able to help with.  Thanks!