CureUs exists to bring Christian entertainment to Newaygo County through sponsors like area businesses, churches and people who have a heart for the Lord.  There are so many negative influences in our culture. CureUs wants to offer amazing entertainment options to people of all ages. We seek to provide family friendly, encouraging, uplifting, challenging and entertaining events year-round to the Newaygo County area.

CureUs (that's right, how it's written it is pronounced – "cure", and "us"), an organization out of Newaygo County, Michigan.  CureUs, spelled 'kurios' in Greek, translates into "Lord". The mission of our organization is to reach people, an emphasis on youth, for Christ.
The desire of this ministry is to bring spiritual revival, through music and speakers, to the Church and to provide help and hope to the unchurched.
The goal of CureUs, through sponsorships, donations, and love offerings, is to be able to offer free or low cost outreach concerts/events where the Gospel Message will be clearly communicated to all people.
CureUs has brought in groups and speakers like Big Daddy Weave, Ken Rudolph, Sanctus Real, Sonic Flood and Bob Smiley. These events/concerts have been well attended and the Gospel Message was clearly conveyed.
That is who we are – a ministry partnered with First Priority of Muskegon, with a passion to serve God the best way we can.
---
About Dave & Julie Gardenour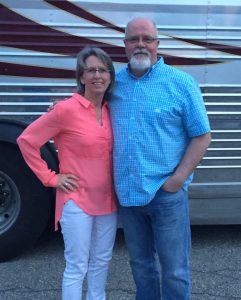 Dave and Julie have both grown up in the Fremont Area and have been happily married for 16 years.
Together they have been involved in the CureUs ministry since 2008.  Julie is a school teacher at Fremont Public Schools and has recently finished her 31st year teaching Physical Education.  Dave is the General Manager of Peacock LTD business in Baldwin Michigan.
They attend First Baptist church where Dave serves as a deacon.  Dave and Julie help as youth sponsors for the Junior and Senior High youth group and also teach the college age Sunday school Class at First Baptist Church.  They have 3 children, 2 grand children and one grandchild on the way.
History:
Julie has been involved in organizing high school talent shows for many years when the Lord laid on her heart in 2007 to have an evening concert following the talent show on the same stage.
She met with a local pastor and they prayed for the Lord's direction.  At that time the Lord had burned "Big Daddy Weave" on her heart so that was the direction they pursued. They asked local business owners, friends and family members to help supply the cost as they wanted the event to be FREE.  In a timely fashion, God opened the door after community member Peggy Stone gave a generous amount!  The first concert took place at Fremont High School with band "Big Daddy Weave."
CureUs has been bringing in performers such as Barlow Girl, 33Miles, Josh Wilson, Sidewalk Prophets, For King and Country, and The Afters, all performing in the local public schools.  CureUs has also been a part of the performances and worship events during the National Baby food Festival, as well as, bringing in Christian performers into local churches.